What's Going on @UVISOA
Weekly Update for Wednesday, February 10, 2021 3:00 p.m.
Join us weekly on Facebook Live: FACEBOOK
Guest Staff (Dean Usman Adamu, SOA), & AgriFest 2021 Virtual Teaser
A weekly live program co-hosted by the University of the Virgin Islands School of Agriculture (UVISOA) communications team staff sharing information and lively interviews about UVISOA staff, administrators, community partners, stakeholders, or current and past clients as they share experiences and examples of how we all work together in responding to the needs of the community. For more info visit: ces.uvi.edu
Missed it? Watch/Listen Here:
CLICK HERE to Watch the Facebook Video
CLICK HERE to HEAR the SoundCloud Audio


ON TODAY'S UPDATE:
1. Staff Guest: Dean Adamu
Personal/Professional Intro
SOA: CES, AES & Academic Programs & Certificates
New Staff (New Professor)
2. 50th Annual AgriFest Postponed – Feb 13th Virtual Teaser Info
3. CES Publications & Where to Get Them
Find our books locally here:
St. Croix - UVI bookstore, Undercover bookstore
St. Thomas - UVI bookstore, Bookstore 340, Tropical Creations Gallery & boutique & Cultural Center
MORE DETAILS FROM TODAY'S UPDATE & Other Upcoming Event Details

AgriFest Virtual Teaser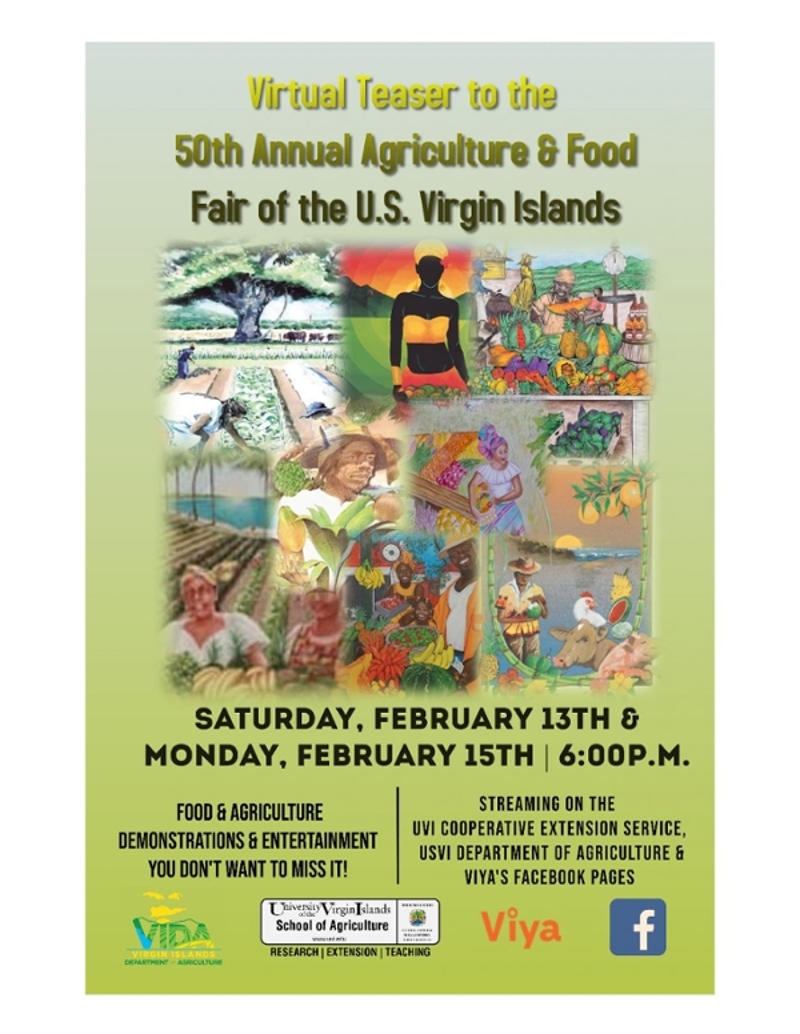 AgDiscovery 2021 Virtual Summer Enrichment Program Application Availability

How To Apply
|
Application
|
Flyer
|
Brochure
|
MORE INFO
It's that time of the year again! The UVI AgDiscovery 2021 Summer Program applications are available. The program offers exposure to career choices and diverse opportunities in agriculture sciences. This dynamic program, held annually at UVI on the Albert A. Sheen campus will be conducted virtually from July 18 - 31, 2021. Students in grades 7 - 12 are eligible to apply. Applications will be accepted until March 25, 2021.

For more information, visit ces.uvi.edu or contact the following individuals: Dr. Louis Petersen (louis.petersen@uvi.edu or 340-693-1083) or Ms. Sarah Dahl-Smith (sdahl@uvi.edu or 340-692-4084).


IF YOU MISSED TODAY'S TOPICS: CLICK HERE TO LISTEN


What's Going on @UVISOA is produced by the UVISOA Cooperative Extension Service,
"eXtending Knowledge; Changing Lives!"
"Responding to the Needs of the Community" in the areas of Agriculture & Natural Resources, 4-H/Family & Consumer Sciences and Communications, Technology & Distance/Online Education!
ces.uvi.edu | FACEBOOK | INSTAGRAM | TWITTER | LINKEDIN | SOUNDCLOUD | YOUTUBE